Chile Ristras, A Beautiful Tradition
Chile ristras are a beautiful decoration, certainly, but they are above all else a means of safely drying chile. Birds love seeds, as evidence by the word "birdseed." More than just that, they are immune to capsaicin, the chemical which gives chile its spice. Because of this, the need to hang chile in order to preserve it emerged, and with it the chile ristra.
Ristras come in all shapes and sizes. Generally, they are made with fresh New Mexico red chile. The traditional straight ristras are the most common, but you can find ristras in the shape of wreaths, hearts, crosses, and even squares and triangles. There are many different types of chile used other than Hatch chile, such as pequin.
Ristras are delicious
Dried red chile pods have a very complex flavor. This is because the natural drying process causes the chile to age naturally, with a fermentation process which turns sugars in the red chile into more complex flavor compounds. Ask anyone who has tried, and they will tell you that fresh red chile is very sweet. This is because red chile is the ripened form of green chile. It doesn't change color once it's picked, so that means a lot of ripening on the plant concentrates sugars in it. Green chile does have some sweetness, but fresh red is much sweeter. Different natural microorganisms break down that sweetness and leave a much more complex flavor. We never coat our ristras, because we believe this natural aging process which red chile goes through should be appreciated. We encourage anyone who gets a ristra from us to use them for cooking as well as decoration. Chile ristras are delicious food as much as they are beautiful.
What is a ristra?
In Spanish, the word "Ristra" means string. You can find many different ristra varieties, such as using chile, garlic, or other things. Ristras are a way to dry and preserve chile, and have been made for a very long time. In New Mexico, because chile ristras are so prevalent, many people simply just use the word ristra to mean chile ristra. As it it essentially just tying or sewing chile onto a string, they are quite easy to make. For some people, they consider chile ristras to be a great welcoming decoration next to their front door. For others, a ristra belongs best in the kitchen, where they can conveniently cook with the dried chile.
How to make a ristra?
The two main methods of making a ristra are tying the stems of chile to twine, or sewing a thread through the stems.
Tying a ristra
If you are used to tying knots, the tying method is probably best for you, as it tends to be more durable than sewing. Make a loop that is slightly shorter than you want your chile ristra to be. You want to wrap each chile individually, then also tie a group of 3 or 4 chiles together with a final knot that is very tight. Then you keep looping and stacking chile on top, until you get to about 6 inches from your top loop. Try to pick chile that will make a good ristra shape. You will intuitively see how to do this after you get a ristra to about 6 inches long. From there, I recommend putting shredded corn husks on the top, then hanging it where you want.
Sewing a ristra
If you sew, you will be putting a hole in the middle of the chile, which can make it more fragile once it dries. That being said, both methods will make a beautiful ristra that lasts a while, provided you hang your ristra properly. When you sew, just run the needle through each chile stem as close to the middle as you can. Using a small needle is a good idea, so the hole in the stem is as small as possible. From there, you just add chile after chile, but try to keep the shape even, it is much better to adjust as you go than try to adjust it after you are done. This part is easy, you will be familiar with how to do it after you have a few layers. Just the same as trying a ristra, you want to have a loop at the top to hang it. Topping the ristra with shredded corn husks is the typical fashion for finishing a ristra in New Mexico.
Varieties of ristras
At Farmers Chile Market, we try to carry many different varieties of ristras. Most of them are made with hot Sandia chile, but we also carry multi-color ristras, pequin ristras, special shapes, and also many different sizes. In general, our ristras are bigger than we say they are. We want you to get a good value. Ristras are quite fragile. If any chile falls off, there will still be plenty of others still hanging. Take the chile that falls off and cook something with it, they are delicious!
We strive to be the best place to get chile ristras in Albuquerque. We have been selling them for almost 50 years. If you are from Albuquerque, you can bet that your grandparents got a ristra at some point from Farmers Market on Eubank and Snowheights. Our name is slightly different, and our business is seasonal now, but you can be assured that we have plenty of beautiful and tasty chile ristras to buy. Buying a ristra from us supports local New Mexican small businesses and farmers.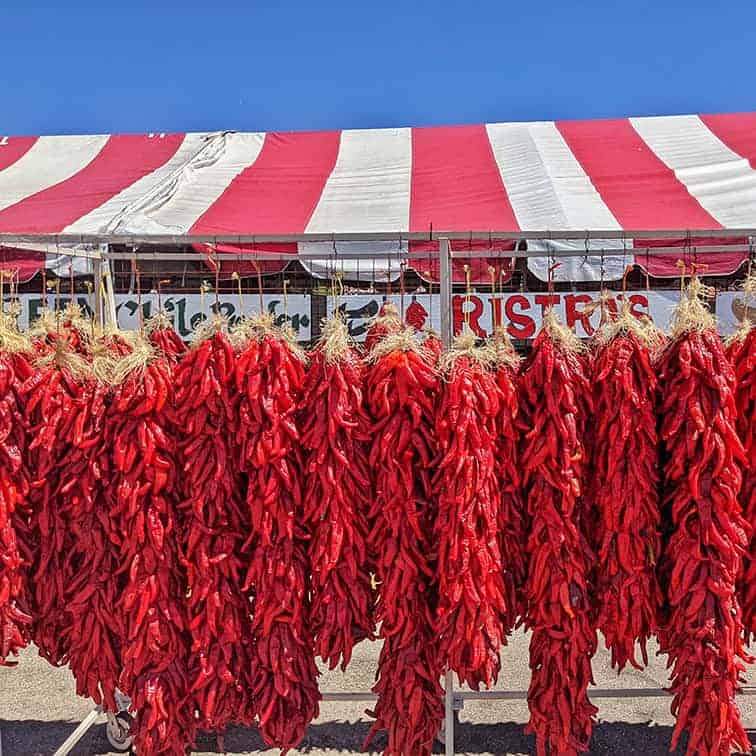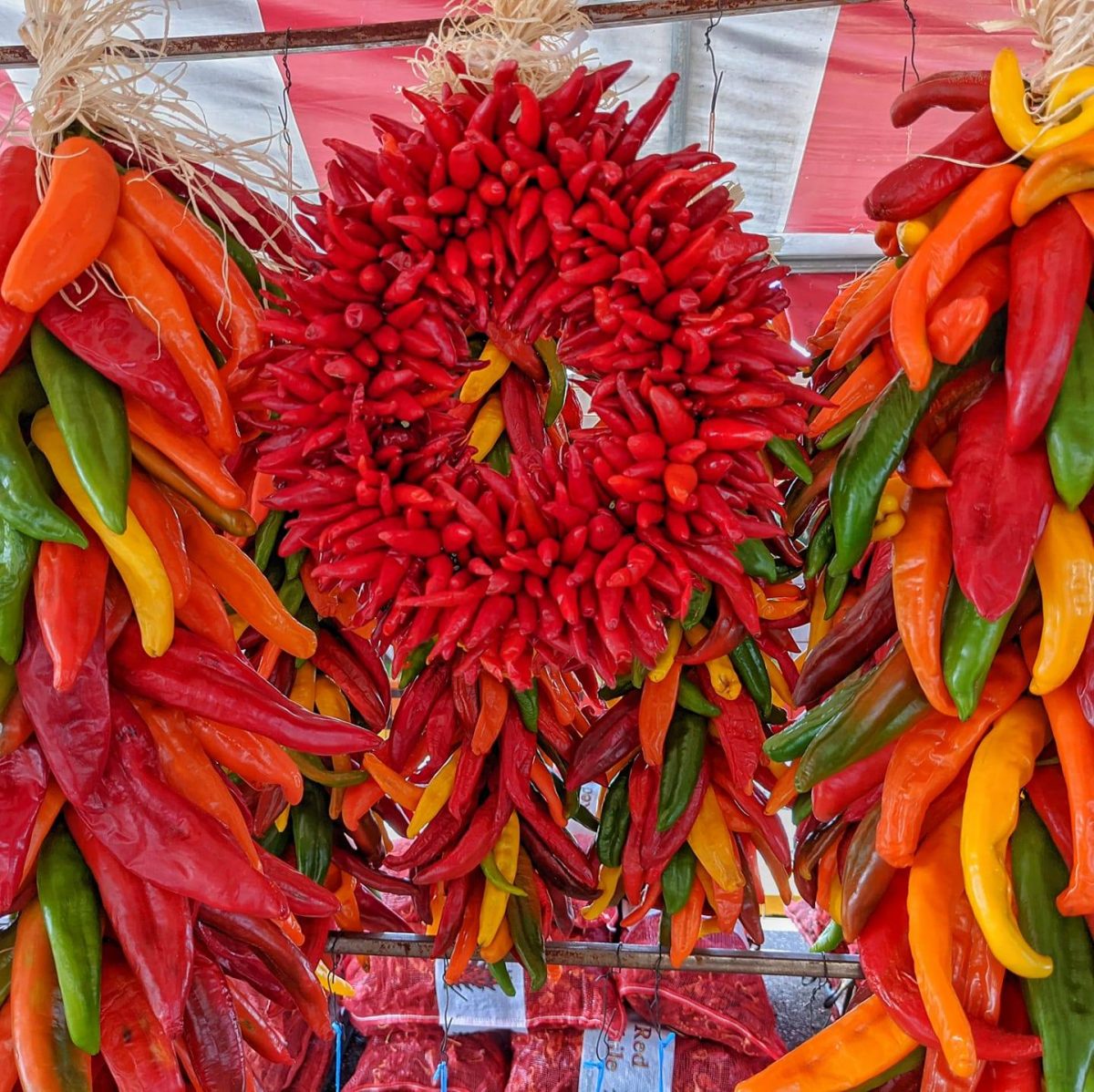 How to use chile ristras
Although ristras are captivatingly beautiful, just looking at them would be a terrible shame. Once the chile dries, it is ready to be cooked into a delicious red chile sauce. If you have ever come to the Balloon Fiesta in October, you have probably had a delicious bowl of posole that uses red chile to make it. If you have been to Frontier or Golden Pride, you have no doubt tried their carne adobada burritos as well. Both of these dishes use red chile in New Mexico. The "Green or Red" question we often asks is directly related to which flavor of chile you enjoy. If you like red, a great source for it is that ristra hanging on your porch. Just pull some chile off the bottom of the ristra, take out the seeds, and blend it with water and spices. After that, boil it for a short time to reduce it to the consistency you desire in a sauce. In case you want to use chile from a pequin ristra, be careful as they are far hotter than the typical sandia chile found in most ristras.
More information about chile ristras
The National Parks Service wrote a great article, so check it out if you want to read more about ristras.
In the future, we will have more information and recipes available to show you how to use chile from a ristra. That will take some time, as I also have a chile stand to run in addition to managing this website. One thing you can be sure of, is that I will keep researching and staying up to date on anything chile related in New Mexico. I hope you can check back for new information about cooking, ristras, or local New Mexican produce.
Check here if you have any questions about ristras.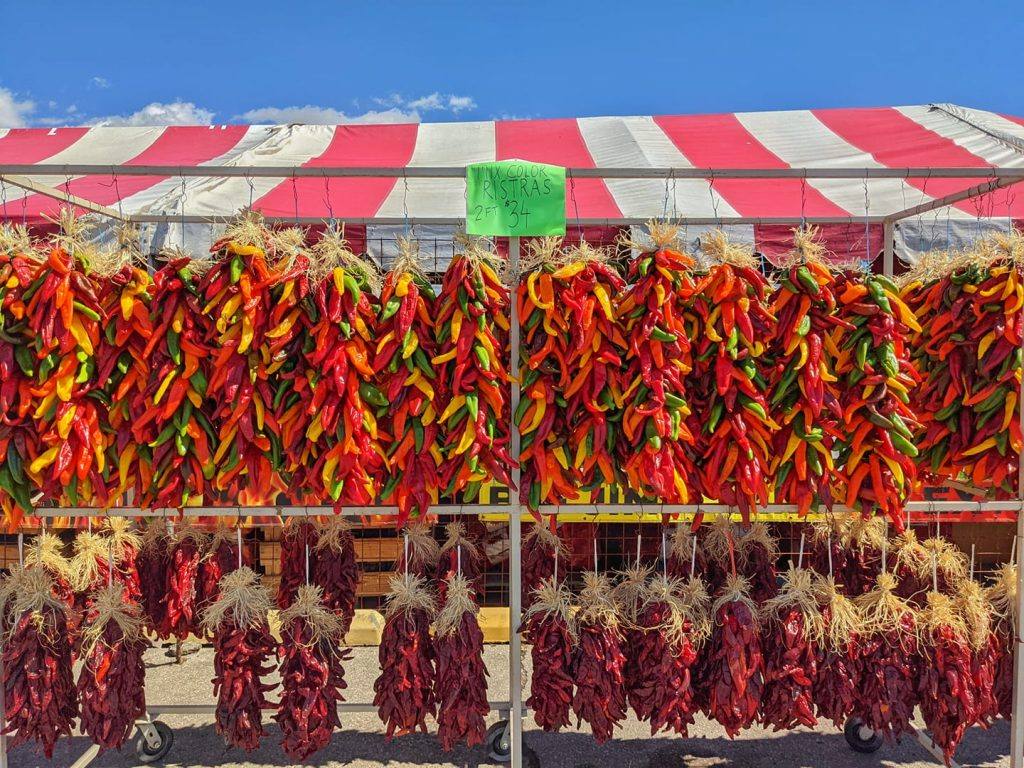 Where to get ristras in Albuquerque
Farmers Chile Market of course. We have many different types of beautiful edible ristras at great prices. You can find us at 2010 Eubank Blvd NE, 87112 during the chile season. Chile season is from the start of August to the end of October. We have been proud to serve the Northeast Heights and all of greater Albuquerque. We are just a bit north of I-40 on Eubank, and are quite convenient for people living close to there, up on Tramway, or even up in the mountains.