In New Mexico, chile is a big deal to say the least. We schedule our year around picking up enough fresh roasted chile during the season. If we are running low in October, you better believe we will make a mad dash to the closest chile roaster to stock up ASAP. One place in New Mexico has a lot more fame than other areas, the village of Hatch.
About Hatch, New Mexico
The Village of Hatch is a small town with a population of just 1,648 according to the village website. Even with such a small population, it has managed to generate enough renown to call itself the "Chile Capital of the World." Part of this is due to the farmland there and in surrounding areas producing so much delicious New Mexican chile. The long Hatch valley running along the Rio Grande provides a great terroir to grow some delicious chile.
The Hatch Chile Festival has been held since the 1970s, and will celebrate its 50th anniversary this year, in 2022. Although plenty of other great growing regions exist in New Mexico, this event causes the population of Hatch to temporarily grow about 20 times larger. Spice lovers from all over the world come together to celebrate the love of spice. Plenty of different competitions related to best salsa, spice tolerance, food, and much more is available to do.
Additionally, if you drive through the town during the season, you will see chile being roasted on literally every street corner, and ristras being used to decorate every shop, restaurant, and house. You can even find plenty of places who can teach you how to tie your own ristra. Additionally, there is a lot of decorative stuff for sale as well, tourists often buy those kinds of things, and Hatch is definitely focused on selling to tourists. We have plenty of chile ristras in Albuquerque also.
Even in the off season, you can find a lot of stores still open, but they won't be selling fresh chile anymore, instead selling frozen and dried chile.
Great Burgers at Sparky's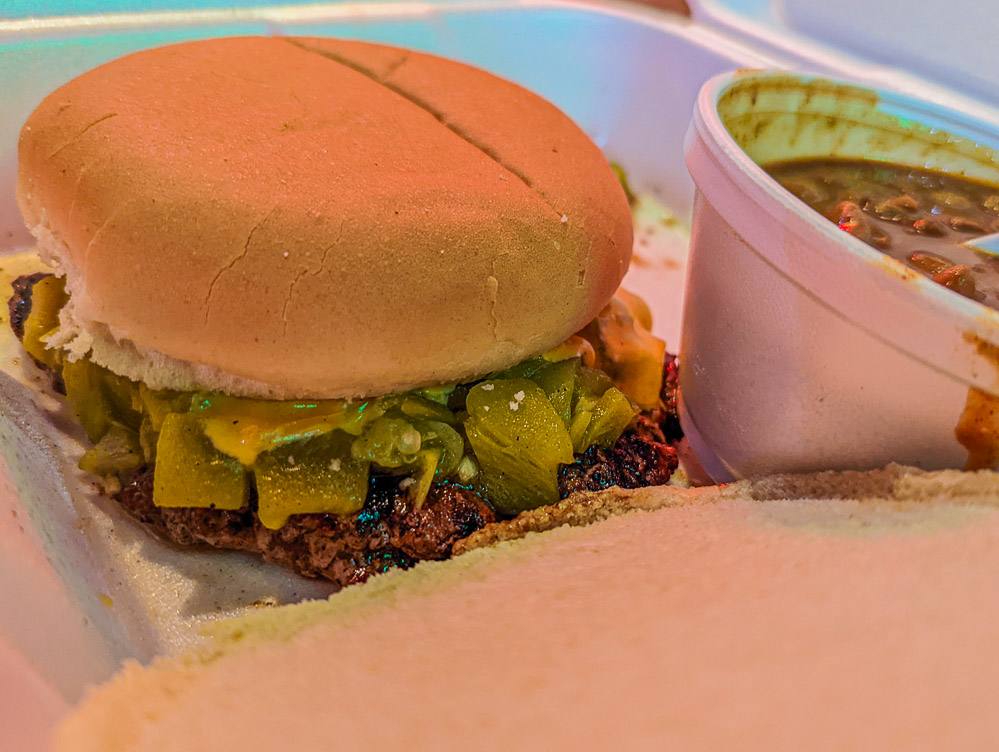 If, like many other people traveling to Hatch, you are looking for a great green chile cheeseburger, Sparky's is arguably the most famous place in New Mexico. They certainly have a delicious burger, with a decent heat level. It isn't really cheap, but burgers worth traveling for rarely are. There is a ton of classic Americana decorating this place, so there is a lot of cool stuff to look at and take pictures of while you are waiting for food here.
Hatch chile and New Mexico chile
Hatch chile is great, but New Mexican chile culture is also a force of nature. The Rio Grande river valley goes right through the middle of New Mexico. Lots of farms grow in a very similar terroir to Hatch all throughout New Mexico. The elevation of Hatch is about 4,000 feet, where the elevation of Socorro is about 4,600. That region is also quite well known among New Mexicans, but not nearly as famous worldwide as Hatch.
Even the words "Hatch Chile" is much more popular than "New Mexico Chile," even though chile produced at the Chile Pepper Institute of NMSU bears the title NuMex. Whether people say Hatch chile, New Mexico chile, Socorro, or Lemitar, we know that it is probably good stuff if grown in New Mexico. At our store, we sell chile from various parts of the state. We will always let you know where it is from and invite you to sample it before you buy. We pride ourselves on being the best place to get roasted chile in Albuquerque.
So, what makes Hatch famous? Personally I believe it is a combination of many things, including the overall chile tradition that they have. There are many growers, a supportive government, location close to NMSU, and great restaurants which spread the message as well. Even though it is a small town, when people come together and know what they stand for, great things happen.