Where to get chile roasted in Albuquerque
If you are looking to get some green chile roasted in Albuquerque, there is only one place that has been doing it since 1977. Farmers Chile Market, located at 2010 Eubank Blvd NE, or just Farmers Market back then, started the Albuquerque chile roasting tradition when the owner Jhett was just 19 years old. That means as of this 2022 chile season we have been roasting green chile for 45 years.
Since then, roasted chile has overtaken the city, and it seems like you can find chile roasters on most major street corners these days. In New Mexico, whether you spell it chile or chili, it isn't hard to find roasting. Even large grocery chains set up roasters, but generally the chile and roast quality is not as good. Just like most other industries, the more local it is, the better. As a business started in 1963, we are as local as it gets for Albuquerque. We've been roasting Hatch chile since before it was world famous, and probably helped many people discover what really makes New Mexico the Land of Enchantment.
A New Mexico Tradition
The fact is, green and red chile are part of the fabric which makes up Albuquerque. Whether you want to roast it yourself in the oven, or have us roast it on our barrel roasters, chile roasting is a staple of life in Albuquerque. There is a reason we always ask the question "green or red?" when it comes to our favorite spicy food. Chile, both green and red are fundamental to every kitchen. If you don't like spice, we have mild, and if you love spice, we have super hot kinds of chile like Lumbre. Every New Mexican is able to find a perfect chile for them.
Often, chile roasters become almost like a town hall, with many people coming together and discussing chile, life, and making new friendships as they watch their chile being roasted. It is one of the things that really unites New Mexicans. Everyone has the experience of getting fresh roasted chile, whether they buy it themselves or get some from their friends and family.
If you are looking for chile roasting in Albuquerque, you can find us from August to the end of October at 2010 Eubank Blvd NE Albuquerque, New Mexico 87112. If you have any questions about flavors or varieties of chile, or other local produce which we carry, you can call 505-362-3058 or message our facebook page. More than just fresh roasted chile, we also have plenty of other chile products, such as chile ristras to choose from. More than just that, we carry plenty of local produce when it is in season. Because local produce arrives only one day after harvest, it allows our farmers to let the fruits vine ripen longer than the massive agricultural operations in other states are able to.
A commitment to quality roasted chile
We aim to please, and always offer the highest quality chile we can find. There is a reason our chile is priced higher than major grocery stores. It costs more to grow and handle. Chile for us isn't some afterthought loss leader. We are chile specialists, and sell specialty chile products.
We care a lot about your satisfaction. If you have any requests, we will try to accommodate them. You are always welcome to sample the chile we sell before you buy, and can mix flavors if you want a spice level that better suits you. We can even roast garlic or onions with your chile, which takes the fragrance up a notch. When it comes to delicious spicy food, New Mexico chile is a wonderful ingredient. Why not prepare it exactly how you want it?
So next time you are wondering "where to get chile roasting near me," just remember Farmers Chile Market at 2010 Eubank Blvd NE in Albuquerque, New Mexico.
If you are interested in unique ways to prepare green chile, try fermenting it.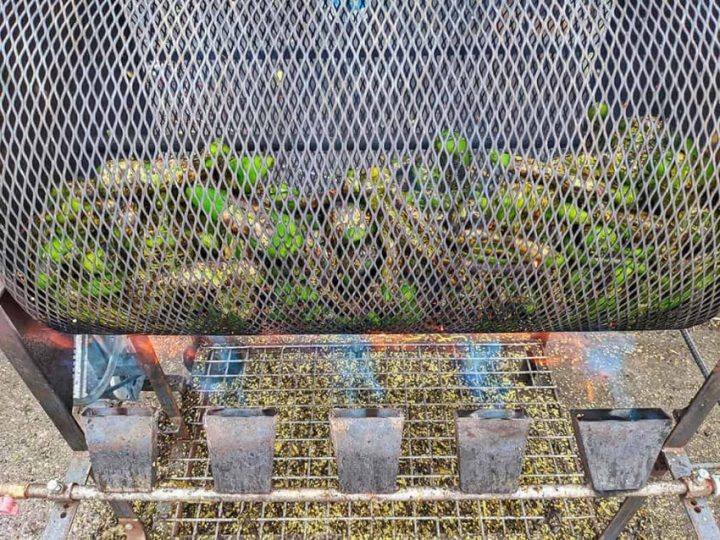 Albuquerque's Original Chile Roaster
As the original chile roaster in Albuquerque, we have a duty to uphold our long tradition of serving up quality local produce at a good price. When we were known just as Farmers Market, we were the best value grocery store in Albuquerque for decades. People knew us as the place where "A Fast Nickel Beats a Slow Dime." Although that phrase has lost its meaning over time due to inflation, we still strive to provide a great value for our customers. We are not some simple souvenir shop like some chile businesses around Albuquerque who charge tourists ways more than they ought to for chile products. We are not the cheapest around, but if that is what you want, Wal Mart and other grocery conglomerates have plenty of inferior chile for cheap. What we offer is excellent chile products and high quality local produce at good prices. We hope that you can see for yourself this 2022 chile season at Farmers Chile Market, Albuquerque's Original Chile Roaster.
If you want more information about New Mexico chile products, you can be sure to find it on our blog. Read more about the history and culture of NM chile. Our blog has a lot of content, and will have more regularly throughout the chile season. We even have a decent FAQ in case you have any questions about chile ristras. As you can see, Farmers Chile Market has a lot of information about New Mexico chile products. We know so many different local farmers and work very hard to have the best knowledge about different local produce every single season. All of this work is to ensure we provide our customers with the best possible product at the best value we can. The original brick and mortar Farmers Market is gone, but our philosophy continues on for nearly 60 years. Nickels and Dimes aren't worth much anymore in 2022, but we will still do our best to give you the best value New Mexican produce in Albuquerque.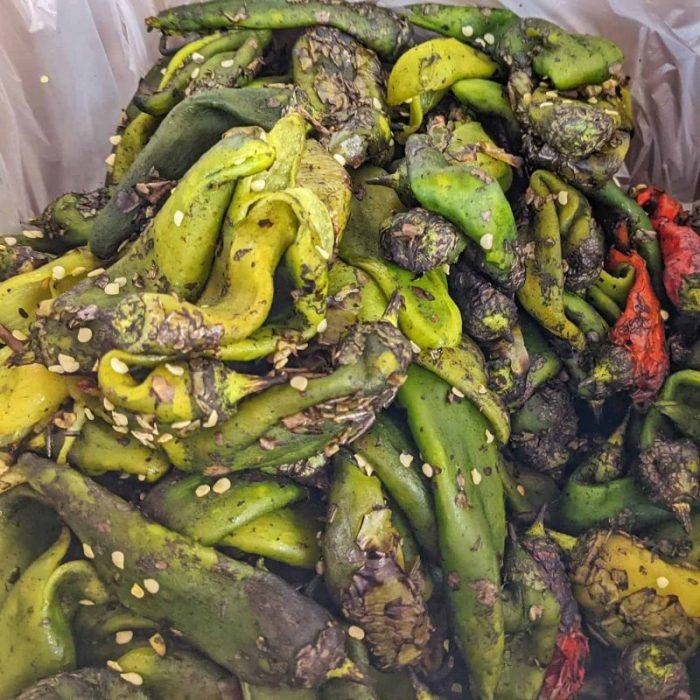 Find us in the Northeast Heights, north of I-40 in Albuquerque