If you have found yourself here, odds are you are curious about chile, whether it is from Hatch or somewhere else in New Mexico. We care a lot about our chile here, with former US senator Pete Dominici going as far to include the official spelling as "chile" in congress. The state question "Red or Green?" has nothing to do with Christmas or traffic lights, but instead on whether one wants red chile or green chile. Indecisive people also have Christmas as an option, which is a mix of both. The tradition of green and red chile runs deep here.
History of New Mexico chile
Although chiles have been grown in New Mexico for hundreds of years, the New Mexico chile we have come to love is much more recent. In 1913, Dr Fabian Garcia released a chile pepper known as New Mexico No. 9, which was, according to him "larger, smoother, fleshier, more tapering and included a shoulder-less pod for canning purposes." This chile variety is important, because it is the forefather of all modern New Mexican chiles, excluding landrace varieties. More than just that, it was the first chile variety released by NMSU, which has released many other great chile varieties.
In the modern day, the most famous varieties are definitely Big Jim, named after Jim Lytle, developed by Dr Roy Nakayama in 1975, and Sandia, developed by Dr Roy Harper in 1956. They are the traditional medium and hot chile in New Mexico. We've got a page explaining more about chile varieties too.
Modern chile history
Now that you can see how recent a lot of the New Mexican chile culture is, you can understand how roasted chile is also not an ancient custom. Although many would roast chile at their home, the art of roasting commercially is rather new. Before we started roasting in 1977, there were no stores who roasted in Albuquerque. Back then, Hatch grew plenty of chile and other produce, but it was just a small town, not really known to many in New Mexico, let alone internationally as it is today. The first Hatch Chile Festival in 1972 was a step in the right direction, and is a large reason why it became so famous among spice lovers. Nowadays, chile is grown, roasted, dried, and sold in every form imaginable in New Mexico. The term Hatch chile is used by more people than New Mexico chile.
New Mexico vs Hatch chile
We prefer the term New Mexico chile, because there are tons of amazing farms all around New Mexico providing great quality chile and other local produce. More than just that, there are many big businesses who try to capitalize on the "Hatch" name who simply produce an inferior product. Although there are some great growers in Hatch, nowadays, a lot of "Hatch chile" pales in comparison to chile grown in San Antonio, Socorro, Lemitar, or other regions in New Mexico.
The chile season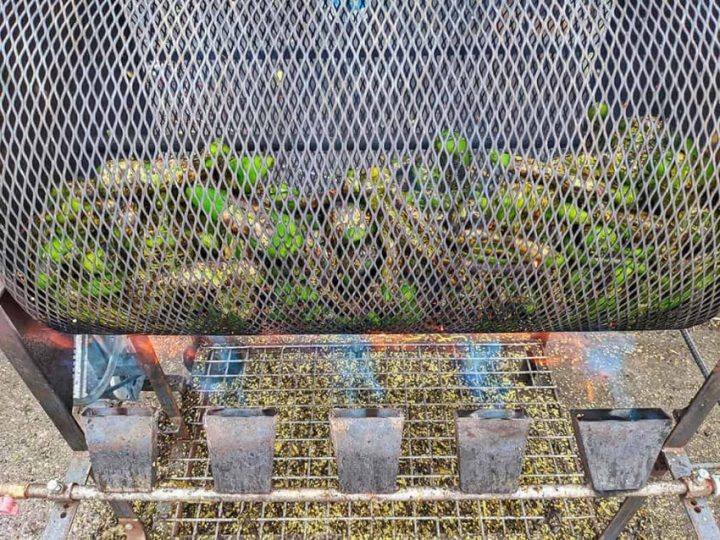 Every year in early August, the chile season begins. Many farms release chile starting in July nowadays, but early chile is often not mature enough to roast properly. Once August comes, you can smell the enchanting aroma of roasted chile on many street corners in Albuquerque, Santa Fe, Las Cruces, and every small town in between. To say that green chile is a part of the fabric of the community borders on an understatement.
If you find yourself in New Mexico during chile season, especially during September and early October, you will see many chile ristras decorating shops and restaurants. You will also see a chile roaster on what seems like half the street corners. Even big grocery chains roast chile, though their chile is cheap mass production chile, and their roasters are generally not trained well. Chile for them is just a loss leader to drive customers into the store.
As the original chile roaster in Albuquerque, we know how much of a social event getting roasted chile can be. Often, we will have 20 people or more waiting for chile, striking up new friendships and sharing recipes. We've even seen people offer up room in their freezers to those who don't have enough room to store their chile.
The traditions of chile season
A classic New Mexican tradition is raiding mom's freezer for more chile after you run out yourself. Another classic tradition is tying ristras. Although not every New Mexican has taken part, many people buy sacks f fresh red chile to tie ristras with their families. It is a great way to make some beautiful decorations, and it saves money over buying premade ristras. Once they are dried, they are ready to be eaten as part of a red chile sauce, posole, or carne adovada.
Most New Mexicans buy chile in large quantities during chile season. Often they will get several sacks ans invite friends and family to come peel and bag the chile together. This is often a family gathering involving beer, wine, and maybe even some gossip. Peeling chile is a task that not everyone enjoys, but is certainly one of the most important chile traditions of New Mexico. The meat of the chile is delicious, but the skin is flavorless, so getting rid of it is the best solution. Luckily the skin is only a small part, so there is plenty of chile left over after peeling.
The versatility of chile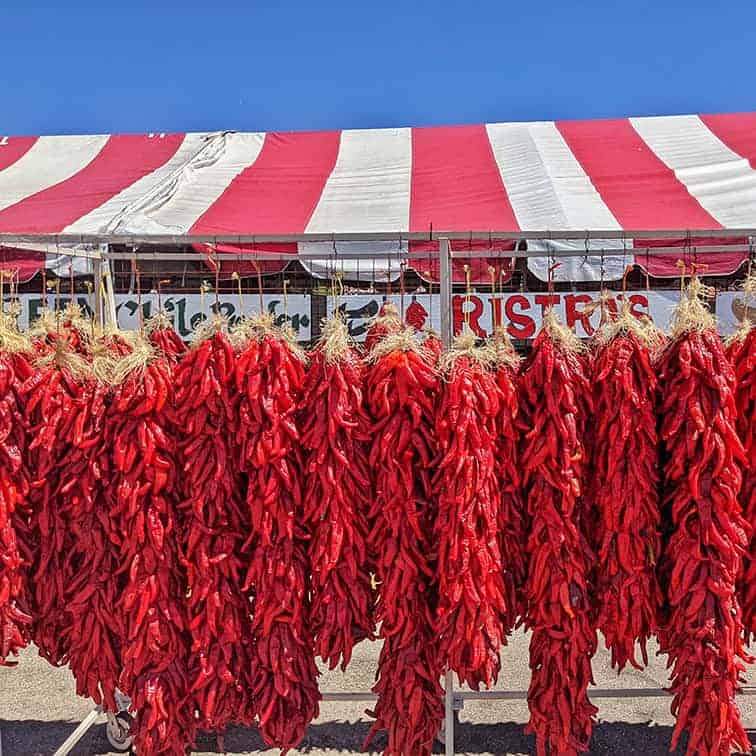 You will also be able to find chile infused aromas, chile chocolate, caramel corn, honey, pastries, breads, and many more. If you can eat it, odds are a New Mexican has tried it with chile. With chile's versatile flavor profile, it probably tastes great too.
Almost every restaurant, from Italian to Japanese will have something with chile in it. Even McDonald's has green chile cheeseburgers, although Blake's is better in my opinion.
If you come to visit New Mexico and want to understand more, the best thing to do is visit a chile roaster. After all, New Mexicans do every year. If you are in Albuquerque, we hope you give us a visit at 2010 Eubank. We strive to be the best roaster in Albuquerque. If you are in another city, you can use google maps, or simply ask a local. Everyone in New Mexico will have a chile roaster they prefer.
As you can see, New Mexicans have a tradition of enjoying chile in a lot of ways. It is more than just a food for us, it is a culture. If you like mild or extra hot, red or green, or a mix of both, you can get it here. If you like chile for decorating, we have that too. Dressing up as a chile for Halloween, will make you the life of the party. The tradition of chile in New Mexico is New Mexico itself. Inseparable.