Considering that we have run grocery stores selling local produce in Albuquerque since 1962, it should be no surprise that our pumpkins are also local. We like to keep it simple, whether it is green chile, posole, red chile ristras, or something else. We are all about supporting local, and try to keep everything as close to home and as fresh as possible. Our pumpkin farmer is also our supplier for the best beans in the state.
If we source from a local farm, then we can get things fresh, quickly, and conveniently. There is no need to load semi trucks and deal with different pickups, nor is there a need to burn so much diesel. It's good for us and the environment too.
Every year, we sell pumpkins right around the time chile season is ending. Pumpkins are fun and festive, and they also give us the ability to sell more outstanding inventory before we close for the year by bringing in customers like you.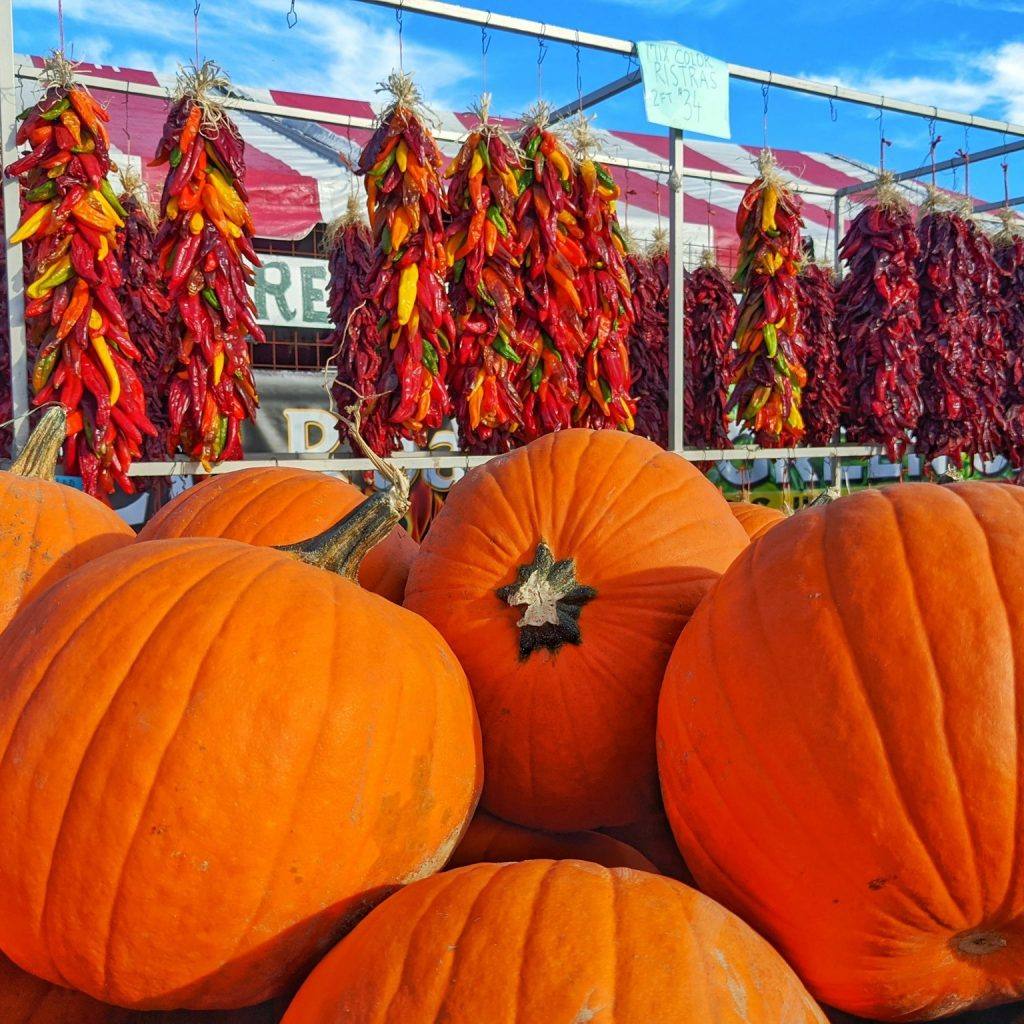 Where to get local pumpkins in Albuquerque
If you are looking for different types of pumpkins, rest assured, we have many. We generally carry mini pumpkins, pie pumpkins, Jack-o-lantern pumpkins, jumbo pumpkins, and mixed varieties as well. If you are looking for some festive fall squash, you should be able to find it at 2010 Eubank NE Albuquerque, New Mexico 87112.
How to use local pumpkins
Personally, my favorite pumpkins that we sell are definitely pie pumpkins, as their flavor is really quite nice. A bit of cinnamon, vanilla bean, clove and cardamom, and the flavor and aroma are unmatched. Pie pumpkins are also a nice easy size to carry, unlike the jumbo pumpkins which are almost as big as a whole sack of chile! This guide to preparing pie pumpkins can give you an idea of how to cook with them.
Pumpkins also allow many people to express their inner artist, even if they aren't the most artistic person normally. This guide to carving a jack-o-lantern can help you cut a face into your creation. If you aren't fond of cutting a pumpkin open, a marker works just fine as well.
Whether you are a big fan of Halloween or not, you can certainly let pumpkins brighten your mood. When you buy them at Farmers Chile Market, you can be sure that you are supporting local farms and local families. New Mexico has a strong community, and by buying local, we can all improve and strengthen it more. If you are in Albuquerque, we hope we can be your source for local pumpkins near you this October, and many more years to come.