If you think about chile in Albuquerque, probably two names come up, Farmers Market and Fruit Basket. A large reason for that is that we both have a lot of history in Albuquerque.
When we first started roasting chile in Albuquerque in 1977, chile was already a large part of the cuisine, but roasting chile was definitely inconvenient. It would take people all day to roast and peel their sack of chile. Once people saw the convenience of our chile roasting, it became hugely popular almost immediately. Even though our Osuna store had a large parking lot, people would still park down the street and walk a long way to get the first fresh roasted green chile in Albuquerque. The first few years we were so busy that it was hard to keep up.
Chile in Albuquerque, then and now
Nowadays, things are a lot different. There are three main ways it differs, besides the obvious 45 year gap. For one, There are a lot more big businesses involved in chile. Competition is a lot more now, with tons of different new faces in the chile business here. The third difference is the varieties of chile. Read on to learn more about how chile has changed in Albuquerque.
Hatch chile = big business?
Green and red chile has become more and more about big business. Many companies sell boxed chile and processed chile products which look nice to grocery conglomerates, but generally aren't as flavorful. That kind of chile is what happens when you use corporate techniques to apply math to farming. It certainly produces more yield and more profit, but you can't put a number on flavor. In Albuquerque and all around New Mexico, grocery stores like Walmart and Smiths sell chile incredibly cheaply. If you want the cheapest chile you can find, I recommend you go to a large grocery store. You get what you pay for however, and every year we have hundreds of people come to us after being disappointed by the flavor of cheap chile at big stores.
New chile roasters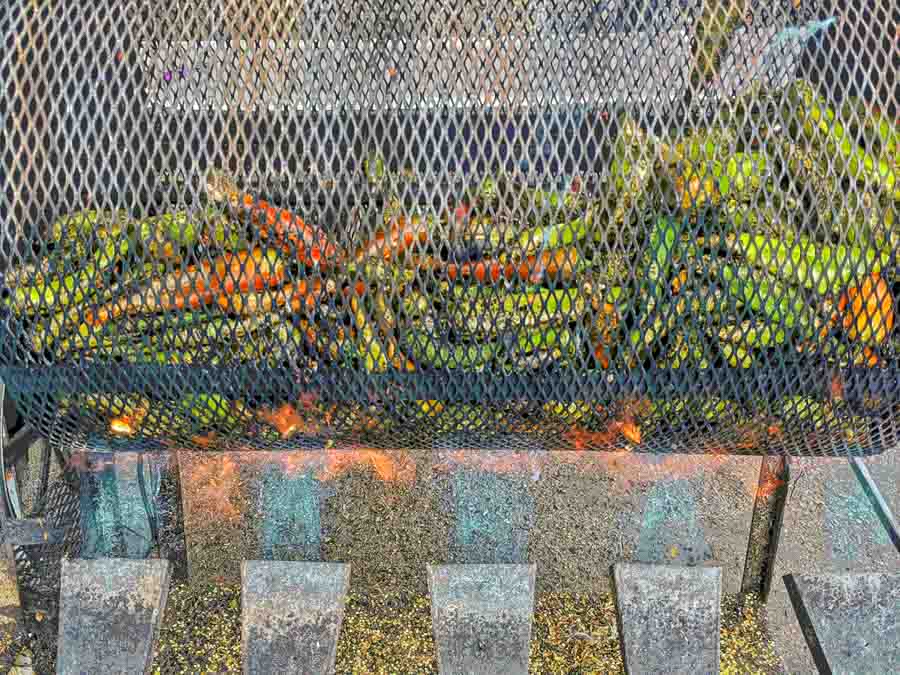 When we were the only roasters in town, we had a captive audience. Nowadays, there are a lot of different chile roasters in Albuquerque like Sichler Farms, Chile Addict, and Rosales Produce. This is great for the average person in Albuquerque, because there are a lot of chile roasters in convenient areas. More than that, there are plenty of people that sell chile on the side of the road. With all places, there are pros and cons. I will say that shopping around is a good idea. A lot of places aimed at tourists charge way too much for their chile products. Farmers Market's slogan has been "Where a fast nickel beats a slow dime" since 1963, and we operate under the same idea. We will always be one of the most affordable chile roasters who sell good chile, because we would much rather make less money and get loyal customers who come back to us every chile season. As a business running for nearly 60 years, we know that keeping customers happy and giving them good value is the key to long term success.
Varieties of chile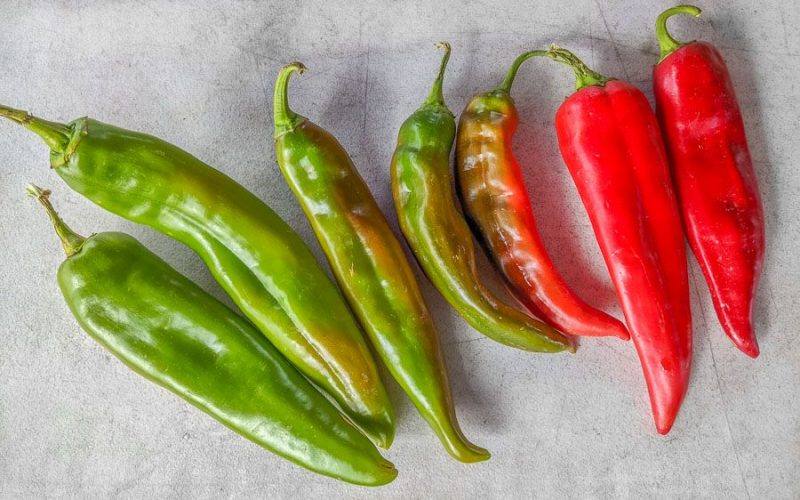 Finally, chile has a lot more varieties now. New Mexicans love chile, so any chile product you can find in Hatch can probably also be found in Albuquerque. When we started roasting in 1977, Big Jim had only been released for two years. Although Big Jim is now arguably the most famous New Mexico chile, back then no one even knew about it. Nowadays, there are many new varieties like lumbre and miss Junie that come on the market every year. More and more, growers and researchers are able to get more and more heat in bigger and bigger chiles. A pepper the size of Lumbre would never come close to being that spicy in the past. This is done through cross pollination entirely, as chile plants are not possible to genetically modify. More variety of chile means there are a lot more flavors available in Albuquerque's favorite food.
Chile things to do in Albuquerque
Start by visiting Farmers Chile Market at 2010 Eubank Blvd NE. We are the original chile roaster in Albuquerque, and generally do a very good job with chile, satisfaction guaranteed. After that, drive south on Eubank, past I-40 and turn right on Central to see Route 66. This road will take you through Nob Hill and downtown, two interesting Albuquerque areas with plenty of local art, restaurants, bars, and things to do. Once you are done exploring downtown, Fruit Basket on 4th street is a good place to see. Their philosophy is similar to ours in terms of pricing, so you can be sure to get a good value there along with a good selection of produce. Not far from there is Big Jim Farms, a place where you can pick your own chile. I'll warn you, picking chile is backbreaking labor, make sure to drink plenty of water.
Other things to do in Albuquerque
Although there are plenty more places to visit for chile in Albuquerque, by now you probably have more than enough chile products. Other interesting things are the zoo and botanic garden and Old Town, which are both in the same area. If you take a walk through old town, you will see lots of local stores selling expensive things to tourists. There is a nice plaza with the church San Felipe de Neri, built in 1793 after the original church's collapse. In this area, there are tons of nice restaurants, so if you see a place that strikes your fancy, it will probably be very nice. If you are traveling with kids, I highly recommend checking out Explora. In December, the River of Lights is cool, but traffic in the area is abysmal. Finally, if you are visiting in October, the Balloon Fiesta is a must see event.
Other things to do in New Mexico
New Mexico is one of the biggest states in the US. There are a lot of places you can see, but be prepared to drive a while for it.
Things to do in Santa Fe
Only one hour from Albuquerque, Santa Fe is a great place to wander around for the day. If you find parking near the Cathedral of St Francis, just leave your car there and wander around. This area of Santa Fe feels somewhat similar to Albuquerque Old Town, but much larger. Many restaurants here are fantastic also, and I highly recommend eating lightly at a few different places while wandering down to the Santa Fe Railyard. This is one of the best things you can do on a date in New Mexico. If you are into art and audiovisual experiences, MeowWolf is a very interesting spot that is also great for kids. Finally, in September, Zozobra is a very unique event though crowds can be somewhat intense.
Things to do in Hatch
The Hatch Chile Festival is a great event for people who really like New Mexico chile. Sometimes people might be disappointed by the lack of variety in terms of superhots, but superhots are not terribly popular in New Mexico. We love spice, but we eat chile for the flavor and texture, not only the heat. You can't make a meal out of a carolina reaper, but you sure can with green chile. It takes about 3 hours to drive to Hatch from Albuquerque, so consider booking a hotel in Las Cruces.
Outside of the festival, Hatch is a pretty small town. I recommend driving south from I-25 and stopping at any places that look interesting to you. You will find tons of places selling chile ristras, green and red chile, along with souvenirs for your visit. Check out Sparky's for a green chile cheeseburger if they are open. Honestly, their prices are not cheap, and you probably will have to wait in line, but the burger is good. From there, go west on Hall street, and you can see a few markets, the Hatch Museum, Chile Fanatic, and Grajeda Farms. After you pass Grajeda farms, there isn't too much. Hatch is a very small town that gets much bigger during the chile festival.
Things to do in Lac Cruces
As we are a chile market in Albuquerque, we might have some sibling rivalry with our little brother, Las Cruces. That being said, the Las Cruces Chile Drop is arguably the most new Mexican way to spend New Years. It is held is the Plaza De Las Cruces, which also tends to have a nice Christmas market. New Mexico State University is the organization responsible for most of our delicious New Mexican chile. Be sure to pay the Chile Pepper Institute a visit to learn about all things chile. They have plenty of information about growing, lots of seeds, and plenty of sauces, books, and miscellaneous souvenirs. Mesilla Plaza is a nice spot, and the restaurant La Posta de Mesilla is a great restaurant which has been in business since 1939.
If you take Picacho Ave west, you will pass by the "World's Largest Chile Pepper" at the Big Chile Inn. If you keep going, you will arrive at Picacho Peak Brewing, which is a cool hacienda with nice craft beer and a popular brunch.
Things to do in other areas
Alamogordo
If you are passing through Alamogordo, the Museum of Space History is interesting, along with Pistachio Tree Ranch, which is a great spot for snacks and pictures. Nearby there, White Sands is also a really cool spot that makes you feel like you are in a different continent. Alamogordo is about three and a half hours from Albuquerque, but it easy to visit if you are in Hatch or Las Cruces.
Truth or Consequences
Truth or Consequences is an artsy town with hot springs. It is a great spot to go and wander around the downtown area, drink a couple beers at T or C Brewing, then mosey on down for a soak in the hot springs. Nearby there, you can also check out Elephant Butte, the main water recreation area of New Mexico. It isn't as big as other lakes in the US, but we take what we can get in the desert. Truth or Consequences is about two and a half hours from Albuquerque, and is a great place to stop and take a detour if you are driving from Albuquerque to Hatch or vice versa.
Silver City
Silver City is another town where one should wander around the downtown, and explore a lot. It was a town built by prospectors looking for silver in the 1870s. Due to the large population of Americans who arrived there around then, it has a lot of interesting American architecture from that time, giving it a somewhat unique look compared to most other cities in New Mexico. After all, New Mexico only became a state in 1912. Most of our old buildings were built by the Spanish, not the US. Tranquilbuzz Coffee is a great spot to get a cup of liquid energy, and Little Toad Creek Brewery serves up delicious beers and is a great spot for dinner too. Silver city is about four and a half hours from Albuquerque, but it is much easier to get to from Truth or Consequences or Hatch.
In all of these places, you can be sure to find plenty of green and red chile. Some areas, such as Chimayo have their own specialty chile as well.
Explore New Mexico
There are many many other great places to go in New Mexico. In fact, it is somewhat daunting to think about. I started writing expecting to write mainly about Albuquerque, but there are too many good places to visit here. If you come, make sure to spend some time here, or you will miss a lot of great stuff.