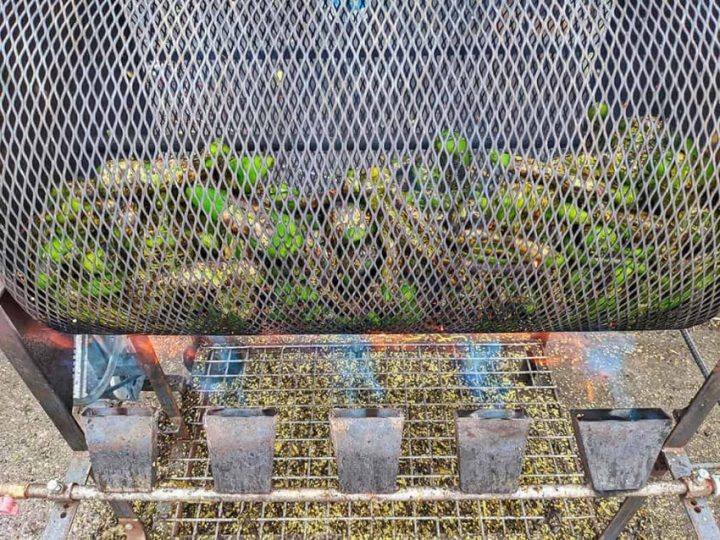 Where to get roasted green chile
When it comes to roasted Hatch green chile in Albuquerque, the original is always worth checking out. We've been roasting chile since 1977, before anyone else in the city. Most other roasters were just kids or not born born yet back then. Our address is 2010 Eubank, and we open every day from 9-5 during the months of August, September, and October.
Every chile season, New Mexicans always consider where to get their Hatch chile roasted. Many people here prefer chile from other areas, such as Lemitar, San Antonio, or Chimayo. In the early season, we always start our green chile roasting with Hatch chile. Simply put, it is ready faster. As the plants get older however, the chile they produce becomes smaller and doesn't roast as well. In this case, it is best to let the chile turn red and mature.
Because the Hatch season is earlier, we change over to our farmers farther north later in the season in order to get the best quality chile available at the time. If the month is August, our green chile is almost certainly Hatch green chile. If it is around September or later, our green chile will likely be from Snake Ranch or another farm in the Socorro Valley area. There are many places here growing fantastic New Mexico chile.
Regardless of whether you are looking for Hatch chile, Lemitar chile, or somewhere else, we are confident that our chile quality is just as good, if not better. Our farmers use seeds bred primarily for flavor rather than yield per acre as a lot of "Hatch chile farms" use. If you want good quality roasted green or red chile, you can be sure to get it here. We pride ourselves on being a great chile roaster in Albuquerque.
If you are asking yourself "where to get chile roasting near me in 2022," You can find your solution in the Northeast Heights at 2010 Eubank. We will also have plenty of red chile ristras, other chile products, and local produce available.
More info about New Mexico Chile
Check out our guide to roasting chile at home.
If you know anyone who will be roasting chile as a professional, our guide to roasting with a barrel roaster will be a great read for them.
Check here if you are curious about different varieties of chile.
Also, feel free to read through our blog if you want to learn other things about New Mexico Chile. We add new content regularly, and will feature recipes along with other knowledge and opinions as the chile industry changes. It is a very different game than it used to be, with many new varieties available. We hope you enjoyed reading our blog, and hope to see you when you are looking for roasted green chile in 2022.